SAFE AND FRIENDLY canine teeth cleaning
Healthy
Friendly
More Affordable
Call (805) 602-2482
With over 60 years combined experience, our expert veterinarians and hygienists understand the importance of your pet's health and safety. We offer non-anesthetic dog teeth cleaning and sedation where necessary to give your pet the best experience possible, at a location near you. We serve a variety of locations along the central coast of California, including San Luis Obispo, Paso Robles, Santa Barbara, Fresno, Salinas, and Stockton.

Safer
Our veterinarian-trained technicians strive to ensure your pet's wellbeing while they are in our care. Whether that's using our signature non-anesthetic approach, or administering a mild sedative, our goal is to give your pet the best experience possible.

Healthier
Like humans, dogs need regular teeth cleaning too. Additionally, we provide licensed veterinarian health checkup service with your appointment.

More Affordable
Pet services can be expensive, but your dog's dental health doesn't have to be. We make sure you, your dog, and your wallet are left happy and healthy.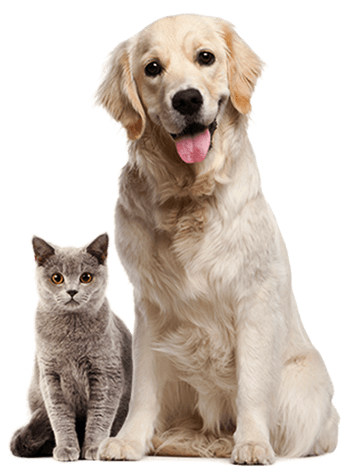 We love your pet,
just as you do!
Howell'n Good Doggie Dentals was formed in 2012 with one goal in mind: Offer an excellent and safe service, at an affordable price to help both the pet and the pet parent. With the added experience of Dr. Dan Blake, DVM, Charmaine and her team bring over 60 years of experience!
Happy Faces
Don't just take our word for it, hear it from our hundreds of happy customers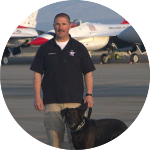 They have always been prompt, professional and have treated Nuke exceptionally well. He is comfortable with them and his teeth look fantastic.
Marcus and "Nuke", Los Angeles County Sheriff's Department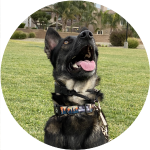 Howell'n Good always takes great care to be gentle and kind to Ronald, and does so at a great price. Having his teeth cleaned with no anesthesia is so important to us, and they do it so well.



Kevin and "Ronald"
Howell'n Good Doggie Dentals did a great job cleaning Olive's teeth. Her teeth came out shiny and her breath smelled so much better afterwards. Because they do such a great job, she only needs to get her teeth cleaned every so often and we love that it is a safer and cheaper alternative to using anesthesia.
We also love to include the nail trim in the service and have her teeth and nails look great.
Sandra and "Olive"
Make an Appointment!
We're available by appointment only, available at dozens of pet and supply stores along the central coast, or by personal appointment